Joint book launch & discussion event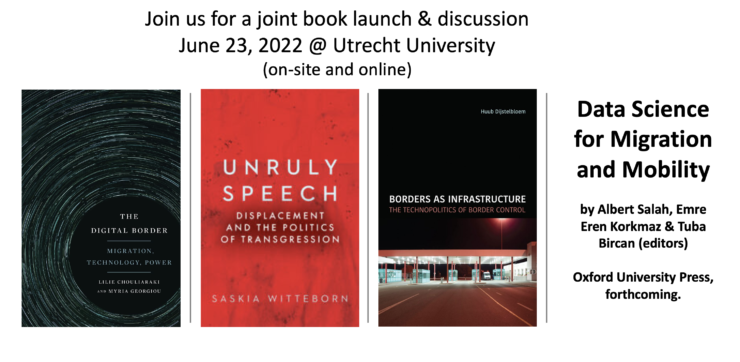 Come join us for a hybrid book launch and discussion of four books
on the theme of migration and borders in a digital and datafied world.
The afternoon will feature book talks, responses and open q&a sessions with authors and editors.
Thursday June 23, 2022, 12.00-18.00 (CET)
Inner city campus, Utrecht University & Online on Teams
Click here to register to join this event (free of charge).
Event  chair: Koen Leurs
Event organisation support: Kinan Alajak
Responses by:
Sandra Ponzanesi
Nerina Boursinou 
Myria Georgiou
Albert Meijer
Veronika Nagy
Nerina Boursinou
Fran Meissner
Tijs van den Broek
 The exact schedule, and details on respondents are available Here.
Supported by:
Utrecht University focus area Governing the Digital Society (GDS)
GDS Digital Migration Special Interest Group
Co-designing a fair digital asylum procedure research project
Utrecht University Graduate Gender Programme (GGeP)
Postcolonial Studies Initiative (PCI)
Scroll down for further details on the books presented during the joint book launch event
The Digital Border
by Lilie Chouliaraki & Myria Georgiou


New York University Press, June 2022 
Description:
How do digital technologies shape the experiences and meanings of migration? As the numbers of people fleeing war, poverty, and environmental disaster reach unprecedented levels worldwide, states also step up their mechanisms of border control. In this, they rely on digital technologies, big data, artificial intelligence, social media platforms, and institutional journalism to manage not only the flow of people at crossing-points, but also the flow of stories and images of human mobility that circulate among their publics.  What is the role of digital technologies is shaping migration today? How do digital infrastructures, platforms, and institutions control the flow of people at the border? And how do they also control the public narratives of migration as a "crisis"? Finally, how do migrants themselves use these same platforms to speak back and make themselves heard in the face of hardship and hostility?
Taking their case studies from the biggest migration event of the twenty-first century in the West, the 2015 European migration "crisis" and its aftermath up to 2020, Lilie Chouliaraki and Myria Georgiou offer a holistic account of the digital border as an expansive assemblage of technological infrastructures (from surveillance cameras to smartphones) and media imaginaries (stories, images, social media posts) to tell the story of migration as it unfolds in Europe's outer islands as much as its most vibrant cities.
This is a story of exclusion, marginalization, and violence, but also of care, conviviality, and solidarity. Through it, the border emerges neither as strictly digital nor as totally controlling. Rather, the authors argue, the digital border is both digital and pre-digital; datafied and embodied; automated and self-reflexive; undercut by competing emotions, desires, and judgments; and traversed by fluid and fragile social relationships—relationships that entail both the despair of inhumanity and the promise of a better future.
For more information, see: https://nyupress.org/9781479850969/the-digital-border/
Biographies:
Lilie Chouliaraki
Lilie Chouliaraki is Professor of Media and Communications at the London School of Economics, where she also serves as the department's Doctoral Program Director. She is the author of several books, including The Spectatorship of Sufferingand The Ironic Spectator, Solidarity in the Age of Post-Humanitarianism and co-editor of The Routledge Handbook of Humanitarian Communication
Myria Georgiou
Myria Georgiou is Professor of Media and Communications at the London School of Economics, where she also serves as Research Director. She is the author, editor, and co-editor of five books, including Diaspora, Identity and the Media; Media and the City: Cosmopolitanism and Difference; and the Sage Handbook of Media and Migration.
***

Borders as Infrastructure
The Technopolitics of Border Control
by Huub Dijstelbloem

MIT Press, 2021
Description:
An investigation of borders as moving entities that influence our notions of territory, authority, sovereignty, and jurisdiction. In Borders as Infrastructure, Huub Dijstelbloem brings science and technology studies, as well as the philosophy of technology, to the study of borders and international human mobility. Taking Europe's borders as a point of departure, he shows how borders can transform and multiply and how they can mark conflicts over international orders. Borders themselves are moving entities, he claims, and with them travel our notions of territory, authority, sovereignty, and jurisdiction. The philosophies of Bruno Latour and Peter Sloterdijk provide a framework for Dijstelbloem's discussion of the material and morphological nature of borders and border politics. Dijstelbloem offers detailed empirical investigations that focus on the so-called migrant crisis of 2014–2016 on the Greek Aegean Islands of Chios and Lesbos; the Europe surveillance system Eurosur; border patrols at sea; the rise of hotspots and "humanitarian borders"; the technopolitics of border control at Schiphol International Airport; and the countersurveillance by NGOs, activists, and artists who investigate infrastructural border violence. Throughout, Dijstelbloem explores technologies used in border control, including cameras, databases, fingerprinting, visual representations, fences, walls, and monitoring instruments. Borders can turn places, routes, and territories into "zones of death." Dijstelbloem concludes that Europe's current relationship with borders renders borders—and Europe itself—an "extreme infrastructure" obsessed with boundaries and limits.
For more information, see: https://mitpress.mit.edu/books/borders-infrastructure
Biography:
Huub Dijstelbloem is Professor of Philosophy of Science, Technology and Politics and Director of the Institute for Advanced Study (IAS) of the University of Amsterdam. He is co-founder of the UvA's Platform for the Ethics and Politics of Technology and one of the initiators of the movement Science in Transition. His current research concerns the politics of border control and long-term climate policy. His work has been published in Nature, Security Dialogue, Geopolitics, the Journal of Borderlands Studies, International Political Sociology, Sociology of Health and Illness and the Journal of Environmental Policy & Planning. His most recent book is Borders as Infrastructure: The Technopolitics of Border Control (MIT Press, 2021).
***

Data Science for Migration and Mobility
by Albert Ali Salah, Emre Eren Korkmaz & Tuba Bircan (editors)


Oxford University Press, forthcoming.



Description:
Migration is a complex phenomenon with multi-dimensional factors. With ever-expanding data storage and processing capabilities, new data sources (such as social media, mobile call data records, and satellite imaging) are becoming available to study migration from both qualitative and quantitative perspectives. This book addresses the needs of both migration scholars who stand to benefit from the analysis of these new sources but lack the computational tools, as well as data scientists who have practical and theoretical knowledge in dealing with these data sources but have no familiarity with the relevant questions of migration research. It describes the main conceptual frameworks, explains techniques of data collection and processing, provides case studies, discusses the strengths and limitations of each data source, and critically discusses the ethical, legal, and privacy-related issues specific to each data source.
Biographies:
Albert Ali Salah is Professor of Affective and Social Computing at Utrecht University, Department of Information and Computing Sciences, and Adjunct Professor at Boğaziçi University, Department of Computer Engineering. He has held research positions at Centrum Wiskunde & Informatica (CWI), University of Amsterdam, and Nagoya University before. His work focuses on computer analysis of human behaviour. He was the scientific coordinator of the Data for Refugees Challenge, and leads a work package in the HumMingBird EU project. He is a senior member of IEEE and ACM, and a research affiliate of Datapop Alliance.
Emre Eren Korkmaz is a Departmental Lecturer in Migration and Development at the University of Oxford's Department of International Development, where he teaches on the MSc in Migration Studies. From October 2016 to September 2018, he was a British Academy Newton International Fellow at ODID. He was also a junior research fellow at St Edmund Hall (2017-20) and a Research Associate at the Centre for Technology and Global Affairs of the Department of Politics and International Relations (2018-20). In recent years, he has been driven by a passion for examining the social and political impact of new digital and frontier technologies on migration.
Tuba Bircan is an assistant professor at the Department of Sociology and the research coordinator of Interface Demography at the Vrije Universiteit Brussel. She currently the scientific coordinator of the Enhanced Migration Measures from a Multidimensional Perspective (HumMingBird), funded by European Commission Horizon 2020. Her major research interests are migration, gender, equal opportunities, evidence-based policymaking, quantitative and mixed methods, Big Data and AI applications for social research. She has served as an external expert and reviewer for several international funding institutes and as a reviewer for many international journals.
Unruly Speech: Displacement and the Politics of Transgression
by Saskia Witteborn
Stanford University Press, forthcoming 2023
Description
Based on a long-term ethnography in China, the United States, and Germany, Unruly Speech explores how Uyghurs in China and in the diaspora transgress sociopolitical limits with "unruly" communication practices in a quest for change. Saskia Witteborn situates her study against the backdrop of displacement as a communicative and spatial phenomenon and focuses on place-naming and eye-witnessing and their role in claiming rights. Moreover, she analyzes social media, the literature on surveillance, and digitized witness accounts to examine the way Uyghurs, their supporters, and the Chinese state each use technology to their own ends: to set limits and to cross over those limits, respectively. The book provides a granular view of disruptive communication, its sociopolitical moorings, and socio-technical control. The book is of interest to those with a focus on migration and displacement, language and social interaction, advocacy and digital surveillance, and a transnational China.
For more information, see: https://www.sup.org/books/title/?id=32713
Biography:
Saskia Witteborn (PhD University of Washington) is Associate Professor in the School of Journalism and Communication at The Chinese University of Hong Kong (CUHK). She specializes in critical technology studies and migration, with a focus on understanding the daily practices and lived experiences of transnational migrants. She has worked with various migrant groups in the United States, Europe, and East Asia and has contributed to theorizing collective identity formation and geopolitics, datafication and forced migration, data privacy, and technocratic imaginaries of migration management. She was a visiting scholar at Free University of Berlin, at the Berlin Institute for Migration and Integration Research at Humboldt University, and at Télécom Paris. In fall and winter of 2022/23, she will be a Visiting Senior Fellow at the London School of Economics. Her research has appeared in edited collections and in leading journals, including the Journal of Communication, Cultural Studies, Telematics and Informatics, ROLSI, and the Journal of Refugee Studies. She has co-authored The SAGE Handbook of Media and Migration with Kevin Smets, Koen Leurs, Myria Georgiou, and Radhika Gajjala (2020) and Together: Communicating Interpersonally. A Social Construction Approach (6th ed., 2005) with John Stewart and Karen Zediker, published by Oxford University Press.